Mar

30

SWOG Meeting – Pluckley, 11 May
SWOG member Alex Bienfait has arranged a demonstration of a Micro Arb Truc with a selection of handling attachments. SWOG members are invited to attend this demonstration and to explore Alex's extensive wood, a mixture of Victorian plantation and semi-ancient woodland on Wealden clay. This is a free event and a great chance to take a close look at some useful log-moving machinery.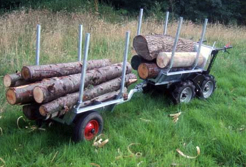 Timetable
10am Coffee and tea. Introductions
10:30am Demonstration of the Micro Arb Truc
and trough, the log arch and various adaptors by Keith Douglas of Micro Arb Truc (part of Fresh Group)
12:30pm Lunch
1:30pm Wood tour
2:30pm Further demonstrations
3:30pm Tea
4pm Depart
Facilities
Parking for some 20 vehicles – ground conditions generally suitable for any vehicle
Good access via public transport from Ashford and London. 10 minutes walk from Pluckley Station
One compost loo
Limited camping available on Friday night
Food – please bring your own lunch. Hot drinks are available. Dogs welcome provided they are kept on a lead (mainly out of concern for nesting birds).
If you would like to attend or have any questions, please email SWOG co-ordinator [email protected]