Oct

30

John Evelyn's Sylva
Plagues and lockdowns are nothing new, as anyone who has ever read the words of the great 17th century diarists, Samuel Pepys and John Evelyn will know.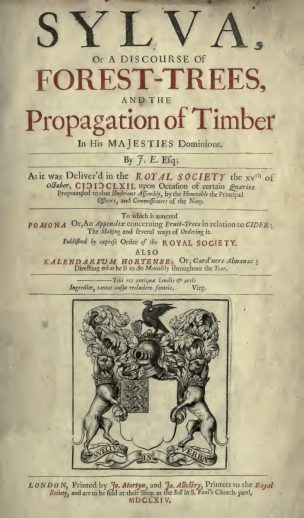 Evelyn (1620-1706) was a polymath and environmentalist, born 400 years ago, who left behind a legacy of fascinating writing, from his own diaries, which document more than one episode of plague, to his studies of architecture, air pollution, gardening, and trees.
Sylva or a Discourse of Forest Trees and the Propagation of Timber in His Majesties Dominions, was published in 1664, the first book about forestry in the English language. It underlines the importance of trees and timber to the English state, and was written at the request of the commissioners to the navy – the Royal Navy, of course, relied heavily on timber for its ships. Evelyn urged wealthy landowners to plant more trees, realising that Britain could not go on depleting timber resources forever without replenishing them. Sylva offers a comprehensive survey of British woods and forests, and interweaves practical silvicultural guidance with folklore and anecdotes.
In more than 350 years, the book has never gone out of print and it proved popular from the start with a wide audience, the 'ordinary rusticks', as well as 'persons of quality'.
The themes highlighted by Evelyn remain with us – tree planting is still woefully inadequate and many of our woodlands remain under-managed.
If you are locked down at home (even if you're not) and need something to read, download the original from Project Gutenberg.