Jun

27

Building a New Old Barn part III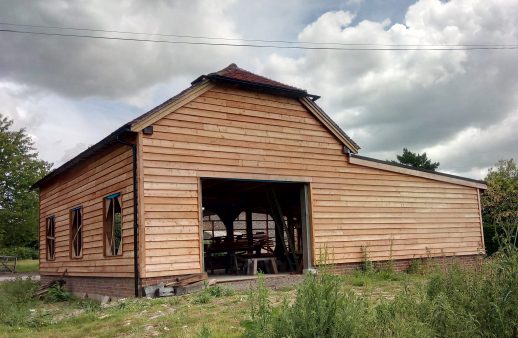 Well this Barn project continues, albeit in fits and starts. I guess there's never a good time to have a global pandemic as many of the medieval builders may also have found, however after 3 months of relatively little activity it's nice to get back to being a bit more productive and pushing the project forward. Two years after putting in the footing and concrete slab the frame emerged, sat neatly on top of the brick plinth it now admires the view over the Hastings Ridge for the first time.
To recap, the timber for this building has come almost entirely from woodlands I manage in the local High Weald Area of Outstanding Natural Beauty. The oak trees were about 100 years old and crowding out the rest of a previously worked coppice wood to the detriment of both coppice and oak trees. About 20 of these make up the frame. See parts I and II.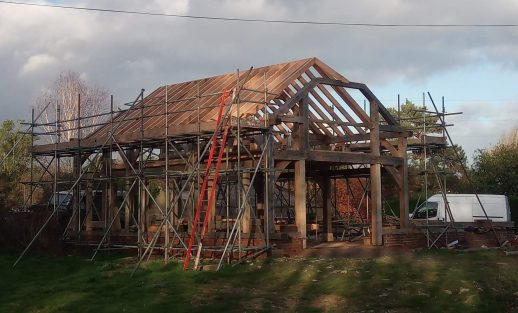 The main pitched roof rafters are of Western Hemlock which we felled as part of a ride widening project. The rest of the 'lean to' roof structure and the outside cladding is larch which has come from a PAWS (Plantation on Ancient Woodland site) close by. Thinning and ride widening here is playing an important part in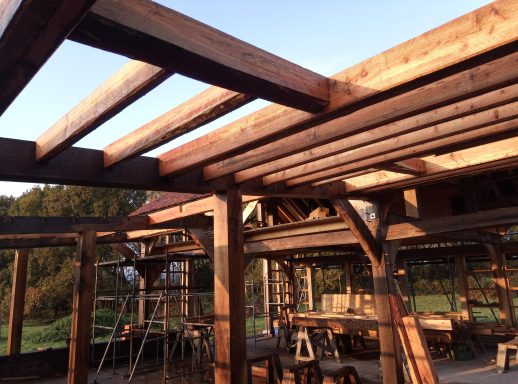 helping the natural regeneration of the native ground flora and trees which may otherwise be lost after such a prelonged period in the dark.
I briefly considered an oak or chestnut shingle roof, this would have been a convenient use for all the offcuts of oak and coppiced chestnut the project has produced. However, splitting out shingles is an incredibly time consuming process, I may still be splitting wood and probably spitting sawdust by now!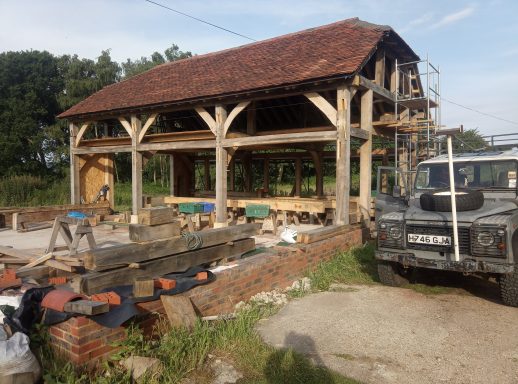 Instead serendipity took over when I visited Tony Kindell at Aldershaw Handmade Tiles just two miles down the road. He makes award winning, hand made heritage clay tiles from his own quarry and happened to have just the right amount for my roof. Not only did I get them for a good price, but conveniently, they had all been pre weathered on another building of his for 10 years so perfect for my needs.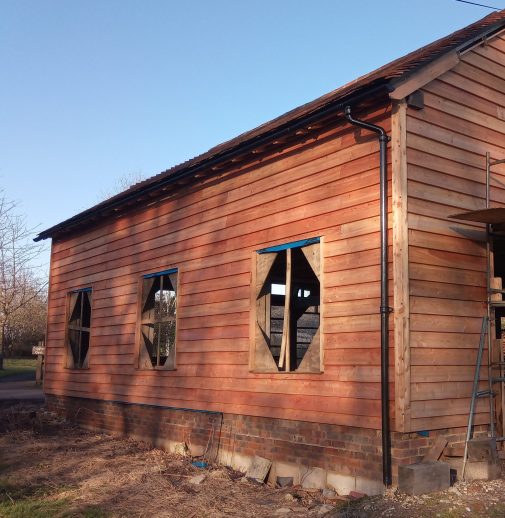 The final thing for the roof before taking down our scaffold was to fit some gutters and downpipes. Again plenty of options here excluding plastic,  but   including using oak or chestnut guttering with multiple chains instead of downpipes. In the end, a friend discovered some cast iron guttering and downpipes languishing in a skip and these were relatively easily restored with a wire brush and a couple of cans of paint, hopefully giving a few more years service.
There is still much to do: two more sides of larch cladding then the conversion of one final oak tree into joinery for the doors and windows. At times this project has appeared too daunting and overwhelming, but I've found the best way to approach it is little by little, concentrating on what needs to be done on the day rather than worrying too much about how much more is left to do. Once I discovered this I found the process became much less stressful and more enjoyable. Pandemic permitting I'm hoping I can wrap up and secure the building before another winter sets in.